Who We Are
Our Mission
Nature provides people with everything from food and water to timber, textiles, medicinal resources and supports wellbeing. Biodiversity has value in its own, as since the beginning of time, people marvel at the beauty and variety of the many faces of nature. However, the evaluation of ecosystems and biodiversity has become an important field of investigation for economists, motivated by the search for arguments in favour of broader conservation policies.
But, can we really put a value of nature? Can we and should we measure exactly what a specific ecosystem supplies in order to incentivise decision-makers and businesses to help combat biodiversity loss? And how do local communities across the globe think about biodiversity and its value?
This is what we aim to discover. We believe in travelling sustainably, with an open and community-oriented mindset. Through travelling on our bikes, we can fully experience and immerse ourselves in other cultures and practices, meeting local people and aiming to understand and learn the ways they value and protect biodiversity.
Our aim is impactful storytelling, to encourage people to think bigger and act more bravely for nature, and to foster global understanding and unity in and towards some of the least known locations of the world.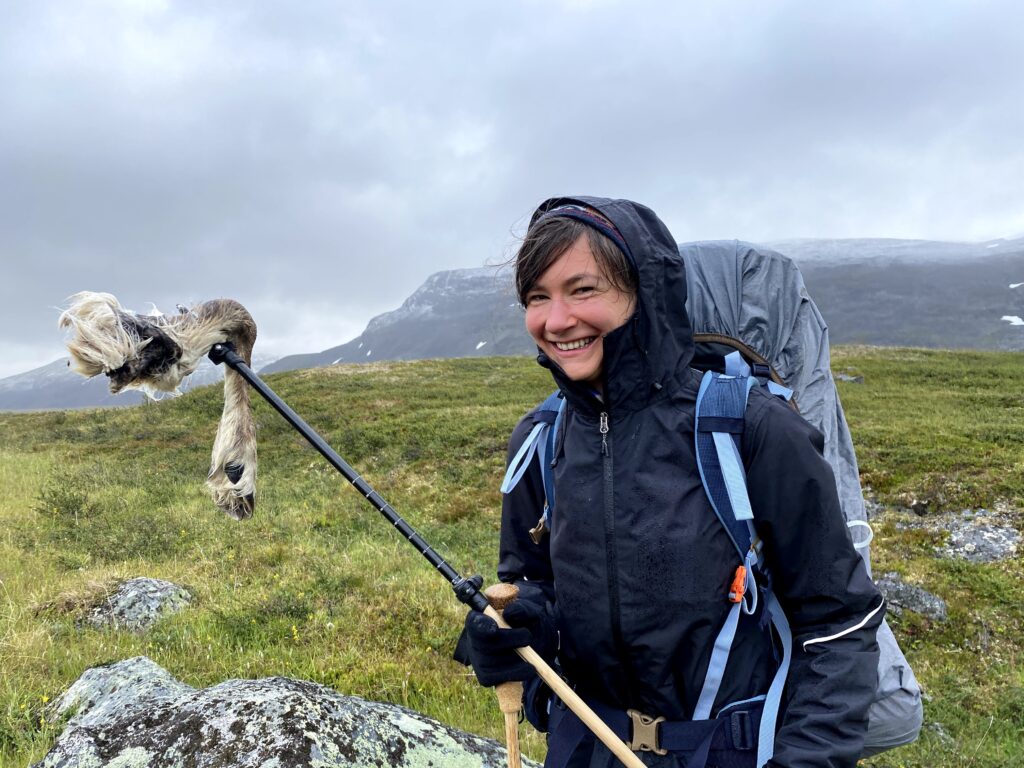 Hanna
I come from a small town by the Danube floodplains of Slovakia. From a very young age, I loved to travel to different parts of the world, experience other cultures, nature and ways of life. Natural ecosystems made a deep impression on me, were the place for me to explore, recharge and get inspiration. I decided to pursue biology as a profession, and studied it at the Eötvös Loránd University in Hungary, focusing on behavioural ecology.
I started my career as an ecologist, nature enthusiast, optimist and woman of action, hoping to make a small but significant contribution to the conservation of the world's biodiversity. I have worked in the regional development sector for RRASamorin in my hometown, in the Austrian Donau-Auen National Park as well as in the international NGO European Wilderness Society, coordinating and working in several international conservation projects across Europe as well as being active in the field of environmental advocacy and science communication. Working with people from various cultures, with different values, aims and priorities, I have learned that it can be rather challenging to harmonise our goals for the protection of the planet, and that nature doesn't hold the same value and meaning for everyone.
After meeting Jonas in a small town in the heart of the Austrian Alps and sharing ideas, we discovered that we had a common aim: to use the knowledge we gained in Europe coupled with our love of adventure and explore nature conservation initiatives outside of our continent in the most sustainable way possible, learning and raising awareness about community-based action. We eventually decided to take the leap: save up, give away most of our belongings and start an adventure that (although we have embarked on many nature adventures together) is completely new to us: biking for biodiversity from Germany to Southeast Asia.
I'm grateful to share this adventure with all the people who tag along with us!
Jonas
I grew up in a mid-sized city near Frankfurt. The metropolitan Rhine-Main area is not the most natural area in the world, so my love for nature and animals started on a small scale. I had pets like rabbits, birds, fish and lizards. I found fascination in observing them and the environment around me. While I always had many interests and often was on cross ways which path to choose, this fascination and love for living nature led me towards biology and nature conservation.
I studied biology with a focus on ecology in Frankfurt, where I gained a firm understanding of how everything in this world interacts. For my master, I wanted to learn more about applied nature conservation in an international context, which led me to Wageningen University. The more I learned about our planet, the more I wanted to see of it. The most fascinating aspect of nature for me has always been its diversity. So, I went out to discover, study and protect it myself. I volunteered for Conservation Volunteers in Australia, worked for the Naturpark Taunus in my home region, studied at the University of Helsinki, interned at Lammi Biological Station, wrote my bachelor thesis in cooperation with the Senckenberg Society and my master thesis in cooperation with Snow Leopard Conservancy India and conducted research at the Succulent Karoo Research Station in South Africa. Before starting Biking4Biodiversity, I was working for the European Wilderness Society located in Austria to protect Wilderness in Europe.
I had always dreamed of traveling the world and contributing to environmental protection in many different places to learn as much as I can. Each experience abroad only reinforced this goal. After meeting Hanna, I finally feel like I have found someone to join me on this journey. And after exploring a beautiful but small area of the Alps, we feel like it is time to collect all our courage and go all in. To broaden our horizons, to learn, to share, to teach and to contribute to a better world.
I hope that many will follow us on this journey and learn with us.