Roughly about two decades ago biologists and natural historians around the world started the first, ambitious projects to create large inventories of Earth's biodiversity. According to the most optimistic estimates, about one quarter of our planet's species are currently discovered by science. This means that while we are losing species on a daily basis, we are also still lacking knowledge about most of them. And how could we possibly work to protect what we don't know exists?
Genomics provide crucial new tools to widen our understanding of how life on Earth functions and responds to environmental pressures. Therefore, massive efforts have been put forward to identify and catalogue as many species on the planet as possible. The Caucasus Barcode of Life project aims to do exactly this in the Caucasus region, one of the 36 biodiversity hotspots of the Earth. Using the technology of DNA barcoding, they identify as many Caucasian species as possible, and with that create the very first database of DNA barcodes in the Caucasus. Ultimately, the knowledge they gather may fundamentally change research, conservation and even policies in the region.
But what is DNA barcoding?
Despite centuries of scientific research, there are still so many species that await scientific discovery and description. Even for described species, telling them apart is often difficult, not to mention their interactions with other species and the environment. The more traditional methods for defining a species are based on their physical characteristics and behavior. However, this resulted in multiple errors that occurred from unreliable taxonomical classifications.
In contrast, molecular taxonomy depends on genetic information, and with the current technological advancements, it is now being increasingly used to resolve taxonomic disagreements and misclassifications. Genomics provides the tool to correctly understand the interrelations of individuals and groups, and one of the technologies it builds upon is DNA barcoding.
The same way conventional barcodes distinguish products in a supermarket, DNA barcoding uses short sequences of DNA to differentiate between species. These "barcodes" are used in an effort to identify unknown species or parts of an organism to catalogue them, or to compare with other barcodes to determine the interrelations between species. In 2008, the umbrella research alliance called International Barcode of Life (iBOL) was established, aiming to identify each and every species on the planet. In the following years, several national barcode libraries for national flora, fauna and fungi were set up, such as in Germany (GBOL), Austria (ABOL), Switzerland (SwissBOL), Norway (NorBOL), Croatia (CroBOL) and most recently, in the Caucasus (CaBOL).
When it comes to insects, for a long time it has been argued that beetles were the most diverse order of insects. In fact, even the famous British biologist John Burdon Sanderson Haldane said that one thing we could learn about the mind of God by studying life on our planet is, that he had an inordinate fascination with beetles. However, it turns out that is not true. Barcoding revealed that flies are by far the most diverse group of insects. This has been misjudged, despite almost 300 years of scientific investigations of animals, but was revealed very quickly through the technology of barcoding.
The Caucasus Barcode of Life
At the Ilia State University of Tbilisi, Georgia, we meet Tinatin Chkhartishvili and Shota Japarashvili, regional coordinators of the CaBOL project. While they show us around in the laboratory, they explain how the project was born.
"CaBOL is an international cooperation that is funded by the German Federal Ministry of Education and Research. In 2018, the Georgian-German Biodiversity Center (GGBC) was set up to investigate the biodiversity of the Caucasus area. CaBOL is the pilot project of this cooperation. The project includes partners from Germany, Georgia and Armenia, which is a huge strength in this cooperation. We in Georgia as well as our Armenian colleagues get the chance to learn the internationally adopted techniques of barcoding first-hand from German experts. We coordinators received extensive training in Germany, and this knowledge exchange was invaluable to us." Tina tells us.
As Shota explains, there are huge gaps in the ecological knowledge in Georgia. There has been taxonomical research in the past, but the data is rather outdated. For example, insects, the most diverse group of life on our planet, have been studied taxonomically in Georgia, but their distribution and genomics are widely unknown. Since establishment of the Caucasus Barcode of Life, the team collects animals and plants from various habitats in Georgia and Armenia. The generated DNA barcodes are entered into a completely open-source database as part of the Global Biodiversity Information Facility.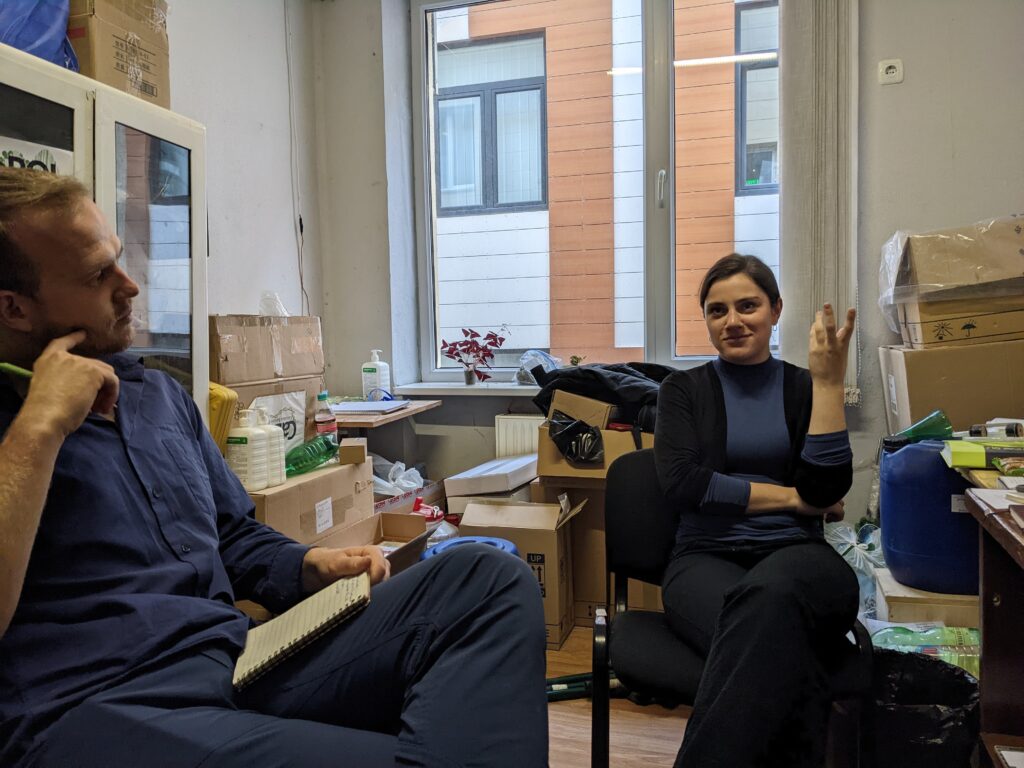 A Caucasus-wide database of DNA barcodes
Ultimately, what the CaBOL team works on is building up the first ever library for the biodiversity of the Caucasus region. Each of the books in the library refers to one species, and the generated barcodes allow fast and very accurate species identification and even the discovery of new species. It also helps conservationists in monitoring the changes in the biodiversity of specific regions or habitats over time. Another goal of the project is to make the Georgian red list of endangered species more accurate, which will contribute to setting more precise conservation targets as well.
The infrastructure created through CaBOL brings modern methods and expertise to the Caucasus and therefore also strengthens the research development in the region.
A chance for young professionals
What is cool to see how much CaBOL integrates students into the team. The two coordinators, Tina and Shota both tell us that they "grew up" with CaBOL. At the time of our meeting, Tina finished her MSc degree and is about to start her PhD, and Shota is applying to MSc degree programs abroad. They developed their thesis topics on the findings of the project and due to their professionalism and passion, they have been trusted by their professors and the other project partners to coordinate the project in Georgia. And besides them, there are several other students who are contributing to CaBOL. From going to the field to collecting samples, preparing and analyzing them, they are integral for the whole process. The team has always encouraged other students to get involved themselves, and all people contributing get paid from the project budget.
Tina explains: "I am thankful for the freedom. Most of us are students, we were raised by CaBol. It also helps students to develop themselves. Overcoming problems are important milestones and help our personal development. I am grateful for the experiences and lessons those problems provided." Shota adds "CaBOL helped me to get to know experts, gave me responsibilities and helped me specialize in my field."
Unlike other national projects, CaBOL includes a focus on botany as well, explains Konstantine Kereselidze, coordinator of the project's botanical research within the university.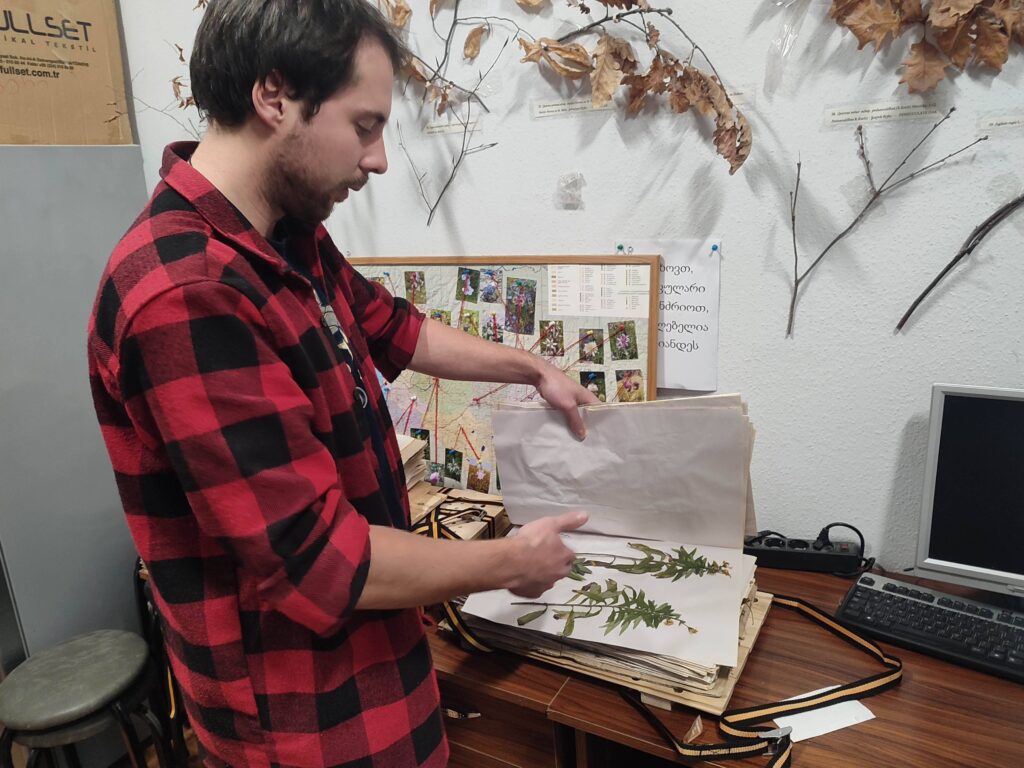 What does barcoding bring for the future?
With modern genetic sequencing techniques, DNA barcoding has the potential to dramatically accelerate the inventory of biodiversity on Earth, providing a basis for global conservation monitoring. We can see what the impact of humans is on other life forms. Just like we began to record weather in the 19th century, which now provides the information that allows us to recognize the climate crisis and make predictions for the future, DNA barcoding provides similar opportunities for biodiversity. Through barcoding, we are able to see the shifts in biodiversity on our planet, which will allow humanity to take educated action to prevent a biodiversity catastrophe. Barcoding ultimately provides a catalogue of the millions of species we are sharing the planet with into the future, the many species that are at the brink of extinction and hopefully, this realization will put things into perspective and bring a shift in human behaviour.