When we started planning our route, there was a region that was always on top of our list: the Fagaras Mountains. It is known for its virgin beech forests, vast mountain wilderness and abundance of large carnivores. When it comes to nature conservation efforts in the Fagaras Mountains, there is one name we couldn´t miss: Foundation Conservation Carpathia.
The NGO, short CARPATHIA or FCC, is by far the biggest private player in nature conservation in the Fagaras Mountains even though it was only established in 2009. In the last thirteen years, they were able to ban trophy and sports hunting on 800km² and bought 270 km² of land securing it for conservation purposes indefinitely. Intrigued by these incredible numbers, we approached them to get a closer insight into their work and Angela Boghiu, CARPATHIA´s communications specialist, organized two unforgettable days for us after our time in Piatra Craiului National Park. We did not only learn more about the organization, its approach and achievements, but also experienced the Fagaras Mountains in a way that exceeded our already high expectations.
The five pillars of CARPATHIA
The work of CARPATHIA is based on five pillars:
Conservation: The overarching goal of all of CARPATHIA's activities is the conservation of the Fagaras Mountains. To achieve this, their main aim to establish the biggest national park in Europe with an incredible size of 2500km².
Restoration: After land was returned to its former owners (before communism) in 2005, massive clear cuts took place in the Fagaras Mountains to earn quick money. CARPATHIA restores these areas through natural regeneration or targeted replanting.
Wildlife: The Fagaras Mountains are home to wildlife that survived in natural abundance only in few places in Europe. The most renown species is for sure the brown bear that is iconic for this area, other species include wolf, lynx, golden eagle and capercaillie. CARPATHIA safeguards these species and even goes one step further. Since 2019, they have started reintroducing European bisons that have been extinct in Romania for about 200 years and will soon do the same with beavers that only occur in the north of the Fagaras Mountains nowadays.
Community Outreach: Whenever we talked to anyone from CARPATHIA, one thing stood out: the involvement of the local community. This can happen in many ways, through direct employment – CARPATHIA has 115 permanent plus seasonal employees, reimbursement of damages caused by wildlife or simply giving locals a voice in the decision-making process of CARPATHIA.
Conservation Enterprise: CARPATHIA supports local entrepreneurs to develop eco-friendly businesses that utilize the unique natural value of the Fagaras Mountains. For example, they built wildlife watching hides that can be booked through Travel Carpathia or local tour operators. And they created the food hub "Roadele Muntilor" (Food of the Mountains) through which they sell local products to the big cities in Romania.
This is only a short glimpse into all the work they do and you can find all of it on their website Carpathia.org.
Reforestation and bison reintroduction
During our time with CARPATHIA, we got a closer insight into two of the pillars: restoration and wildlife. We could accompany Ionut and Robert, two of the rangers working with the bisons, on their daily check-up of one of the groups. You will be able to read more about this trip here shortly.
The other trip was with another ranger named Ionut, who is in the forestry department of CARPATHIA. He showed us one of nine tree nurseries as well as a reforestation area where they planted over 20,000 tree saplings this spring.
We meet Ionut at the field office of CARPATHIA in Rucar, a small town in the heart of the Carpathians. When we say we would like to see a reforestation area, he warns that the ride will be bumpy. We don´t think much about that, hop in the car and start, first to the tree nursery. After we leave settlements and asphalt behind, the tree nursery appears on the right side. It is a small fenced area, where they grow all kinds of native tree species. The dominant species in this area are beech below 1500m altitude and spruce above so that is what is grown here, but they also grow and plant fir, mountain ash, elm and others as well as alder specifically to restore alluvial forests. The trees are nourished here until they are big enough to be planted, normally after three to five years.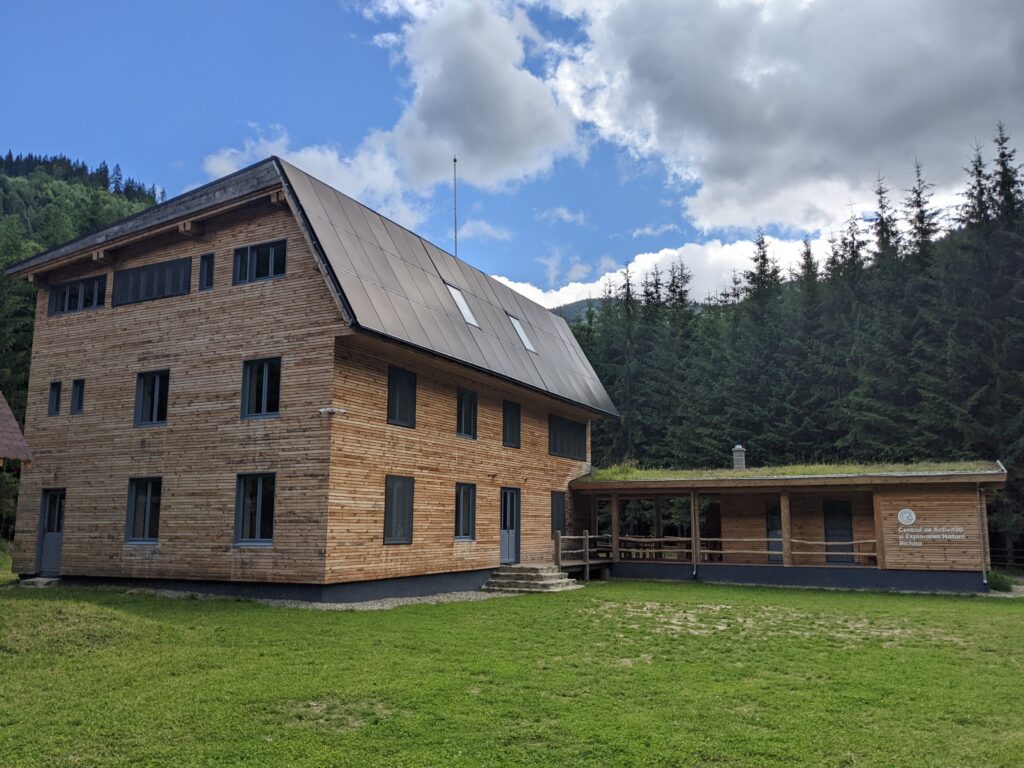 An adventurous ride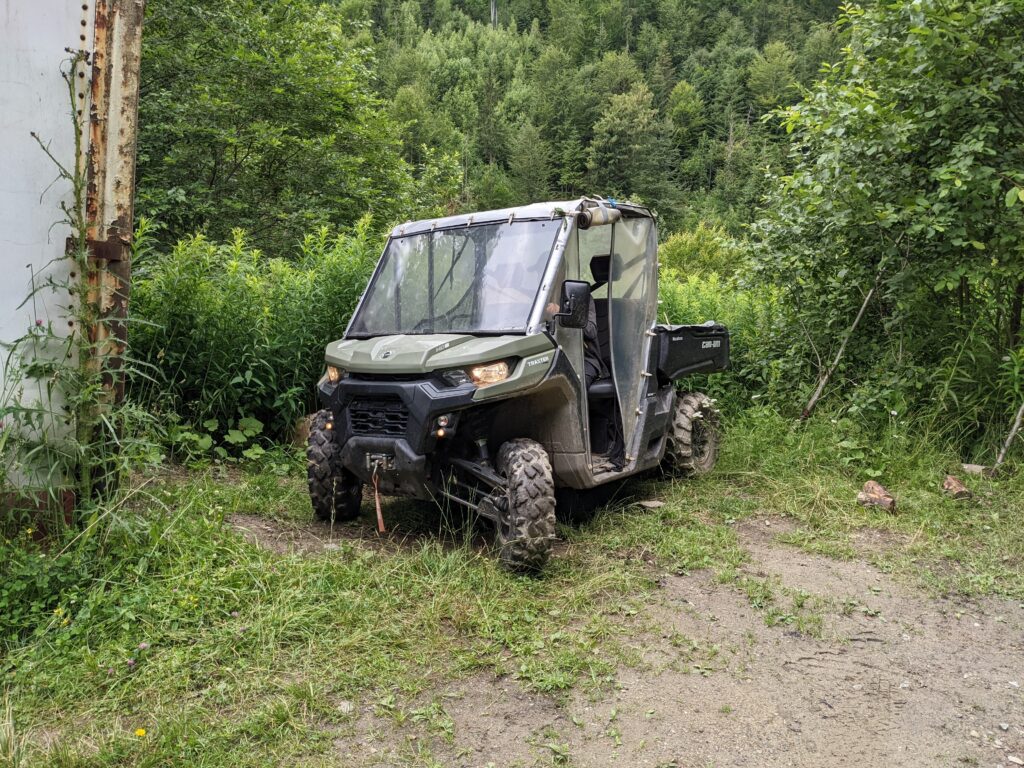 From here, our journey continues to the reforestation site. We drive deeper into the mountains and the road gets bumpier as we drive around Lake Pecineagu. While we follow the flat road around the lake, we regularly see forest roads going up to the mountains so steep that it seems impossible to get up there with anything that has wheels. When we arrive at a lonely shipping container next to the road, we think to ourselves that the ride was indeed bumpy, but also easy. But instead of going for a walk, Ionut opens the container and reveals the next mode of transport. Apparently, the roads we saw going up the mountains are climbable with wheels… So, we get into the UTV that was waiting in the container, and the bumpy part of the journey finally starts. While we think that we are going to get stuck or flip over every ten seconds, the UTV climbs up the mountain like a chamois on wheels – a very loud one. We ride over stones, branches and basically everything in our way to get to the top of the mountain. When you have been spending most hours of your day on a bike saddle for almost 3 months, being your bike´s own engine and knowing the struggle of steep uphills, moving forward in this beast of UTV just takes climbing to whole another level.
Here, we can see the fruits of a dozen of people working tirelessly for three weeks. In groups of two, they each planted 500 trees per day by hand. Now every few meters we see small trees lurking out between the grass, mostly spruce and beech. Ionut is happy with their development, but tells that the work is not done yet. The saplings don´t need much care, but the next up to seven years or until they will have grown higher than the grass, workers will have to cut the grass around them each year.
A view over nature in many conditions
From up here, we can look far above the Fagaras Mountains and see the forest in all possible phases. On the closest slope, we see a clear cut that is approx. ten years old and Ionut tells us that they will plant there next year. A bit further, we see one of the first areas that CARPATHIA replanted ten years ago. Some of the trees have already grown to considerable height, while others are still pretty small. And on yet another slope, we can see an old-growth forest that might have never been exploited by humans. Ionut explains that old-growth forests often exists towards the tree line and you can recognize them when there is a clear edge to a former clear cut with much smaller trees. We also see high alpine pastures either above the tree line or created artificially. CARPATHIA also owns some of them and has contracts with local shepherds to sustainably graze on them.
The way back is equally adventurous, but Ionut brings us back down to the car safely and we head back. But he still has a special gem for us in his pocket. This time we think the way will be easier since we left the UTV behind, but we seem to be mistaken. So, we head up the next mountain in the 4×4 car. After the second ride putting our lives into Ionut´s hands, a pasture on a gentle mountain top opens up. Here, CARPATHIA created a special venue around a beautifully restored shepherd´s hut. The hut was formerly used to make cheese right on the pasture, so we can still see the old tools used for the process. And all of this is located just a few kilometers from the Piatra Craiului ridge that provides the most amazing backdrop for all of this.
The fruits of the mountains
After this surprise we head back to the office. But the surprises are not over yet. When we ask Ionut where we can buy local products, he tells us about their food hub. In the office we meet Cosmin, who runs the food hub. He shows syrups, jams, mushrooms and zacuscas (a typical vegetable spread) that are all made from local produce. Angela also suggests to have lunch the next day at the local gastronomic point of Luiza, where she cooks most of the food from products of her own farm including dairy and meat. But unfortunately, it is time for us to continue our journey…
We fell in love with the Carpathians
From Rucar, we slowly roll down the south slopes of the Carpathians all the way to Bucharest. We entered the Carpathian region in Transylvania from the Hungarian Puszta mid-June, spent two weeks in Piatra Craiului and saw a (too small) glimpse of the Fagaras Mountains. Unfortunately, the time here was dulled by a foot injury by Hanna that restricted us in exploring more on foot. But nevertheless, we leave the Carpathians after one month completely stunned. Landscape, wildlife, views, villages, food and the kindness of people left a permanent impression on us. We fell in love with the Carpathians and we feel like our visit at CARPATHIA is a crucial stop on our journey.
CARPATHIA does really feel like exactly what we set out to find. It was founded a little over ten years out of love for the Carpathians and the strong belief that it must be protected. It uses international funds from donors and projects to protect and restore land, improve the coexistence of humans with wildlife, create new opportunities for local people and promote the Carpathians as a prime destination for eco-tourism. During our visit we were constantly impressed how well local communities are integrated in CARPATHIA´s work and how the organisation gained respect, popularity and acceptance through it. CARPATHIA has a very holistic approach to protecting the Fagaras Mountains. So once more, we encourage you to check out their website, since we can simply not list all of what they do.